The OEMC video repository is an online resource that shares open-access talks, webinars, and educational materials such as trainings sessions. This is an online learning environment that aims at sharing and disseminate OEMC's discoveries and outputs for Earth Observation analysis, integration and applications.
The content is hosted by the TIB.Av Portal and is freely accessible for anyone around the globe.

Any problem? Contact us!
The mission of the Open-Earth-Monitor project consortium is to significantly accelerate the uptake of environmental information to guide current and future users in research, decision-making and citizens toward the most sustainable solutions. The consortium organized a public launch event in Wageningen on July 19th, 2022 to present the OEMC missions, activities, outputs and outstanding partners of the Open-Earth-Monitor project.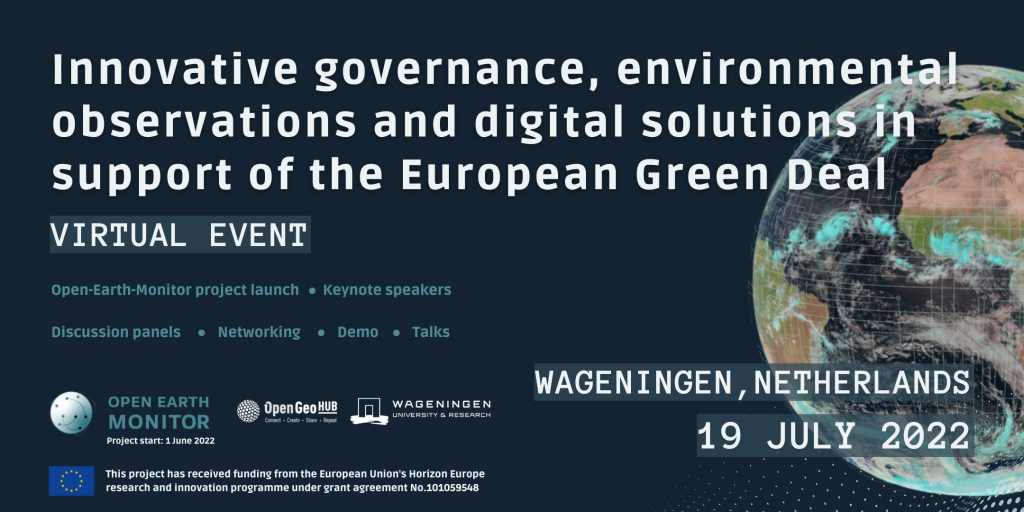 Tom Hengl, co-founder and technical director at OpenGeoHub foundation, introduced the Open-Earth-Monitor project and illustrated its missions, goals and activities at the 'Innovative governance, environmental observations and digital solutions in support of the European Green Deal' workshop held in Wageningen (NL) on July 19th.
Jean Dusart is a policy officer at the European Commission DG Research & Innovation. At the OEMC project kick-off, Jean explored how the novel Open-Earth-Monitor project can support the twin transitions, namely the 'green transition' upheld by the European Green Deal, and the 'digital transition' promoted by the European Data Strategy.
Erwin Goor, Project Officer for Environmental Observation at the European Commission's European Research Executive Agency introduced the audience to another ambitious European Data initiative, the European Group on Earth Observation (EuroGEO): since 2017, it operates as an incubator to produce, deliver, promote, and scale EO services and applications in association with Copernicus programme, European countries and most importantly with users.
Ichsani is responsible for business development and development and use of Open data sets at OpenGeoHub foundation. Ichsani is agricultural land and water restoration, natural resource monitoring, soil carbon methodologies specialist. In this talk, Ichsani highlighted the gaps and reasons to achieve environmental data governance, and how the Open-Earth-Monitor project intends to encourage this process.
Gert-Jan Nabuurs is professor European forest resources at Wageningen University and Research. His expertise is European scale forest resource analyses, carbon sequestration under climate change. He is IPCC Coordinating lead Author in the Sixth Assessment Report for Agriculture and Forestry. In this talk, Gert-Jan shared his long-standing experiences in gathering
Patrick Griffiths is a Earth Observation Data Engineer at European Space Agency – ESA, based in Italy. At the Open-Earth-Monitor kick-off, Patrick introduced the data management burden affecting scientists, particularly in the EO space, exploring possible solutions and semplifications paths – as shown by the EuroData Cube and OpenEO Platform initiatives.

Stathes Hadjiefthymiades is a professor in the Department of Informatics and Telecommunications, University of Athens. Stathes presented the novel Horizon-Europe project 'EO4EU' which aims at making Earth Observation (EO) data more accessible by providing an AI-augmented ecosystem with improved user interfaces for EO service and data powered by extended reality. EO4EU and OEMC are sister projects and will collaborate on multiple grounds in the coming years.
Joanna Ruiter is an Advisor Satellite Applications at NSO - the Netherlands Space Office. At the Open-Earth-Monitor kick-off, Joan discussed the importance of tracking impacts of environmental investments, making sure that funds are spent efficiently.